WANT TO HAVE THE PERFECT GARDEN AND SAVE MONEY ON ELECTRICITY?
Looking to watch firefly dancing when the wind blows? The perfect lights that can handle any type of weather. They light up at night time in the summer and even in the winter. Show off the yard to friends and family.
Benefits:
Swing when the wind blows: our solar lights are supported by very soft and flexible wires, so when the wind blows, the lights will swing back and forth you'll be happy to see how amazing they are super unique solar light that you can't see anywhere else.
Solar charging and waterproof: Solar lights outdoor, IP65 waterproof material, no need to worry about rainy day damage to the bulb. Add sparkle to your home every night. The light can be fully charged 6-8 hours on a sunny day and last up to 8-12 hours at night.
Easy to use and eco-friendly: No need for cables or plugs, just grow solar lights in your garden and flip the switch to enjoy the most beautiful solar decorative lights in the world. The lights will automatically turn on at night and turn off at dawn. Very eco-friendly and energy-saving.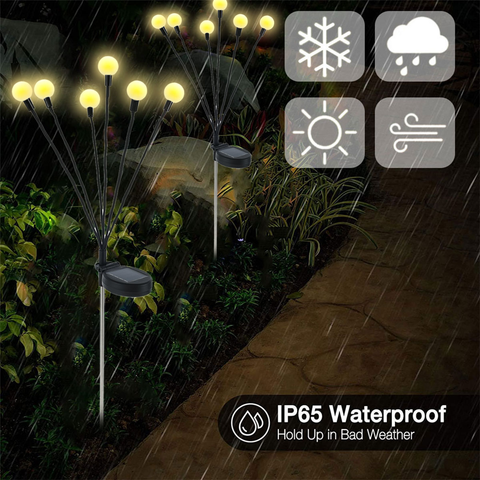 Package includes:
1 x set of Wind Dancing Solar Lights (6 light piece set)