"I love it! It has made sowing so much easier for a novice like myself. I was using a ruler made for gardening which was nice, but not as accurate. This tool comes with a comprehensive legend that guides you in relation to each plant. No guessing! It even assisted with the depths. I'm pleased with this purchase. It's well made and so useful!"

⭐️⭐️⭐️⭐️⭐️ - Mary G.
✅ Verified Buyer
Gardeners around the world look for peace of mind, creating their happy place with the perfect garden. Even for advanced gardeners, maximizing garden efficiency is challenging and complex, resulting in lower yields and higher water bills than necessary. This gardening cycle can lead to feelings of frustration and confusion along with a very unorganized garden.

Introducing SeedMap™, a durable, simple-to-use tool that guides any level gardener to an optimal garden pattern when sowing various kinds of seeds or seedlings. The color-coded guide allows for proper spacing between different types of plants for an efficient, well-organized garden. Get rewarded after putting in the work, growing a garden that achieves high yields, uses minimal water, and is easy to maintain.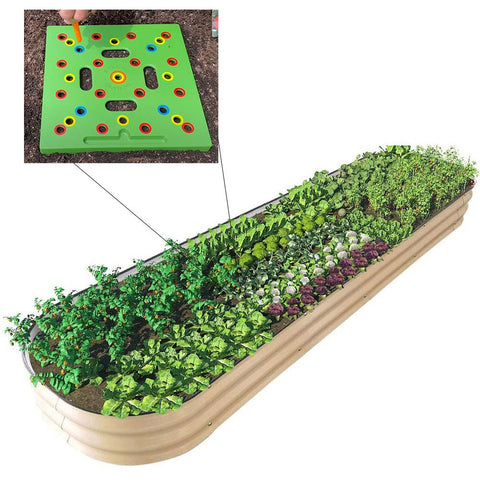 HOW SEED MAP WILL CHANGE YOUR LIFE FOR THE BETTER
✅ Maximize Yield: SeedMap™ features an easy-to-follow guide for optimal placement of seeds or seedlings. Maximize crop yields with proper spacing for each type of plant to reach its full potential.

✅ Organize Different Plant Types: Sow properly with the color-coded SeedMap™ plant chart. Skip the guesswork and easily space different seeds and seedlings by type.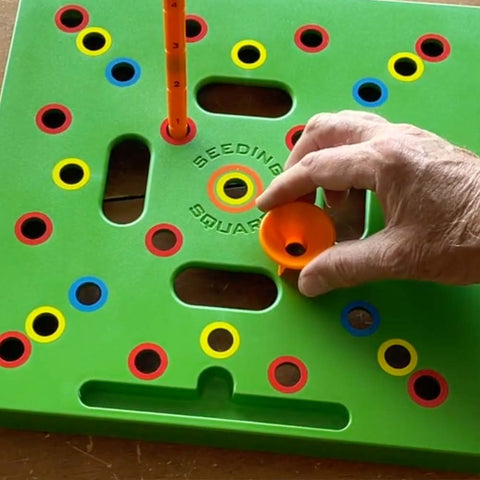 ✅ Spot Weeds Quickly: The perfect interval spacing of SeedMap™ keeps gardens organized. The patterned placement saves time spotting weeds and keeping gardens maintained.

✅ Save Water: SeedMap™ is based on the popular square foot method. This spacing strategy allows for minimal water evaporation and lower water use for gardens, meaning more appealing water bills.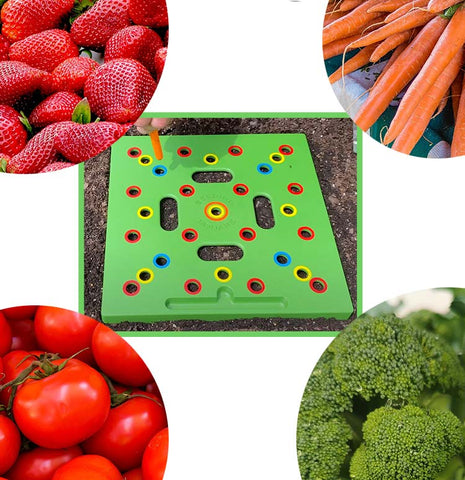 ✅ Easy Sowing: SeedMap™ comes with a depth-marked dibber and seed spoon. Easily plant seeds with tools that let a novice gardener sow like a pro.

✅ Durable Construction: Made with a durable ABS plastic material, SeedMap™ is built to last. Even after multiple washing items, it easily plants properly year after year.
HOW TO USE
1. Press SeedMap™ into the soil.

2. Use the color-coded planting guide to plan out seed or seedling placement.

3. Use the included dibber and funnel to easily plant seeds properly at the right depth.
We understand how stressful and aggravating it is when you put a lot of energy into sowing and growing a garden only to have low to mediocre results and wasted water. When your garden organization is off, it's difficult to weed your garden, and many times, sadly, many plants never reach their full potential. Studies have shown consistently that successful gardening activities are rewarding, promote mental health, and reduce stress.

SeedMap™ leads both novice and expert-level gardeners through an easy-to-follow and enjoyable gardening process. The durable color-coded spacing and planting tools guide the optimal garden organization with proper placement of seeds and seedlings based on plant type. Reap the benefits of successful gardening with better yields, faster weeding, and lower water bills with SeedMap™, the ultimate gardening tool.

SPECIFICATIONS

Material: ABS Plastic
Size: 30 x 30 x 2.5 CM / 11.8 x 11.8 x 0.98 In
Color: Green
PACKAGE INCLUDES
1 x Color-Coded Seeding Template

1 x Planting Guide

1 x Magnetized Dibber and Seed Spoon

1 x Funnel