🌈NO ADHESIVES WINDOW PRIVACY FILM: Glue Free Design Cuts down Chemical Release Drastically, Applies in Minutes and Firmly Sticks to Windows.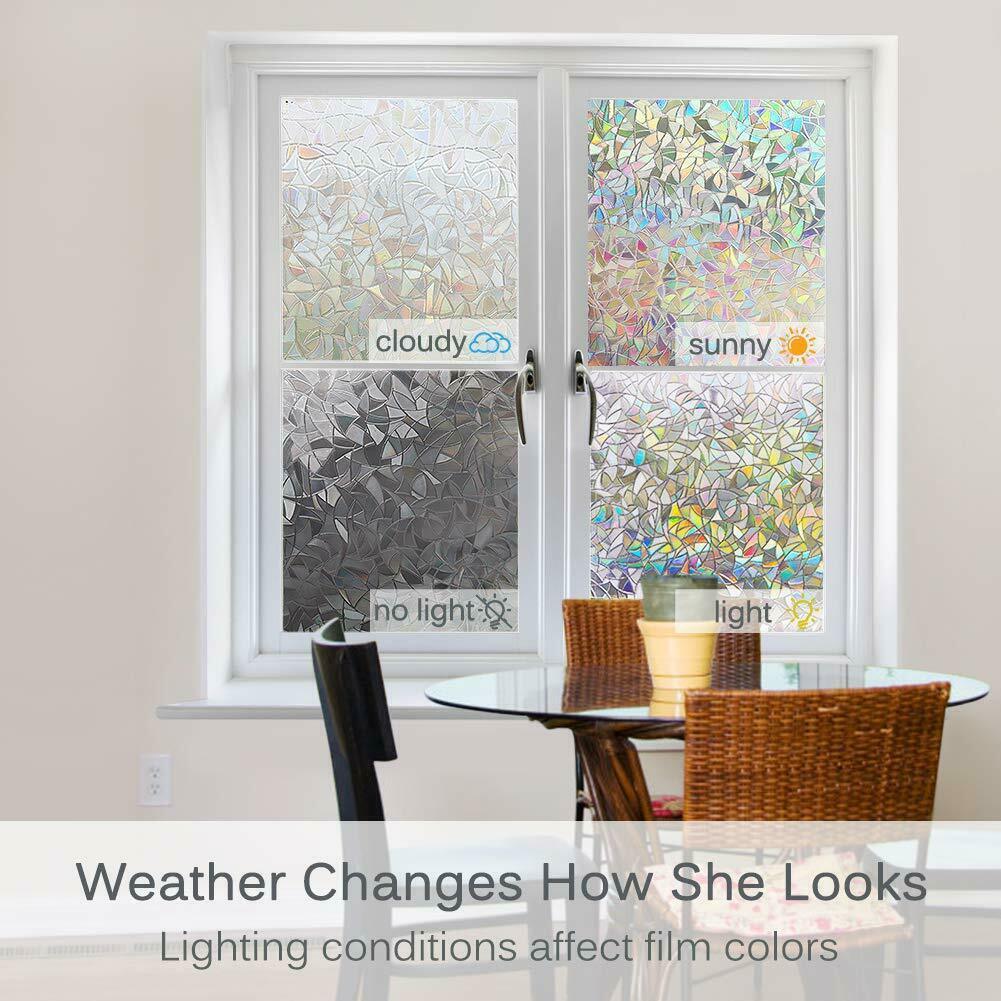 🌈DURABLE USE: Static cling design, quick and easy to install (water is the only tool you will use, more water is better), can be removed easily without any traces left, easy to clean and is water resistant, can re-use and re-position multiple times..

🌈RAINBOW EFFECT: When the Sun Shines Through, It Casts Lots of Rainbows, Creates the Appearance of Stained Glass and Adds an Attractive Design for an Updated Look.can be applied to any smooth and clean glass surfaces, such as windows, sliding doors, shop windows, glass walls/partitions etc..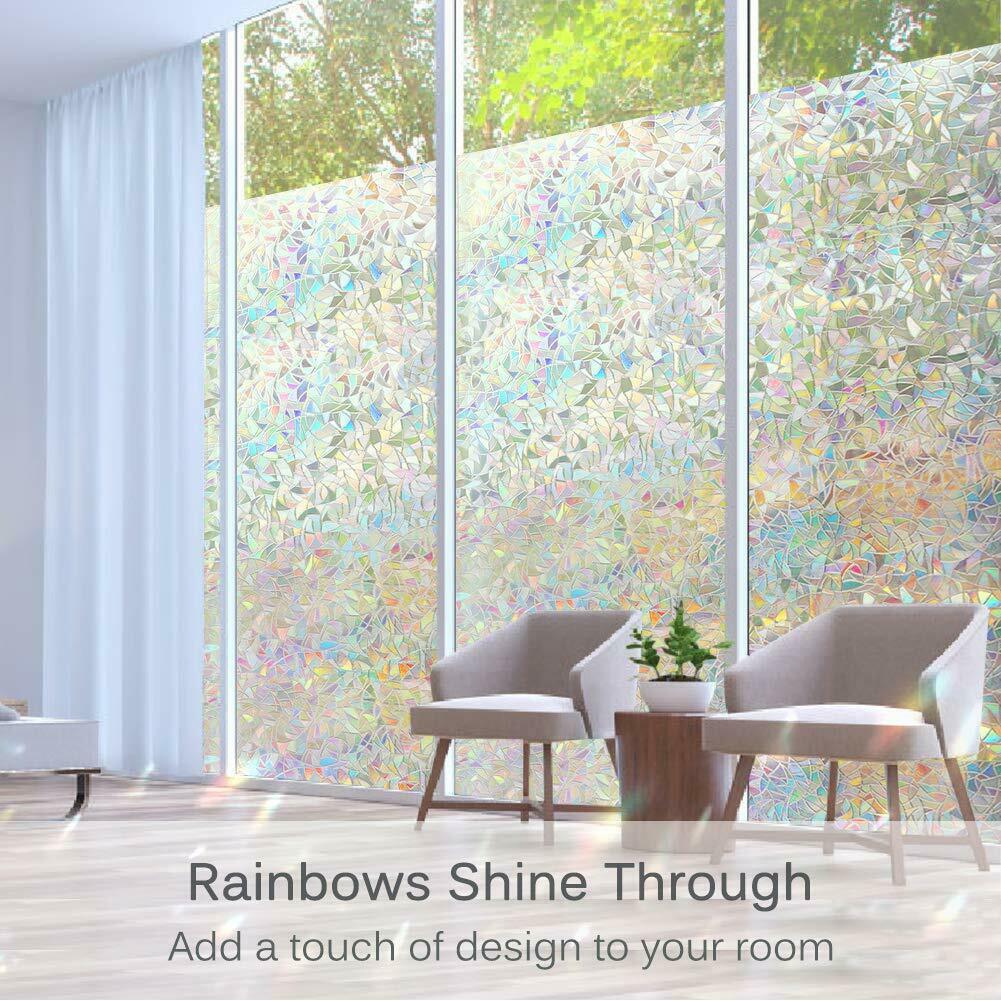 🌈UV PROTECTION AND ENERGY SAVING: Blocks up to 96% of UV Rays and Reduces Glare up to 79%, Slows Down Fading on Flooring, Furniture, and Cuts Energy Bill up to 30% by Rejecting up to 45-85% of Total Solar Energy.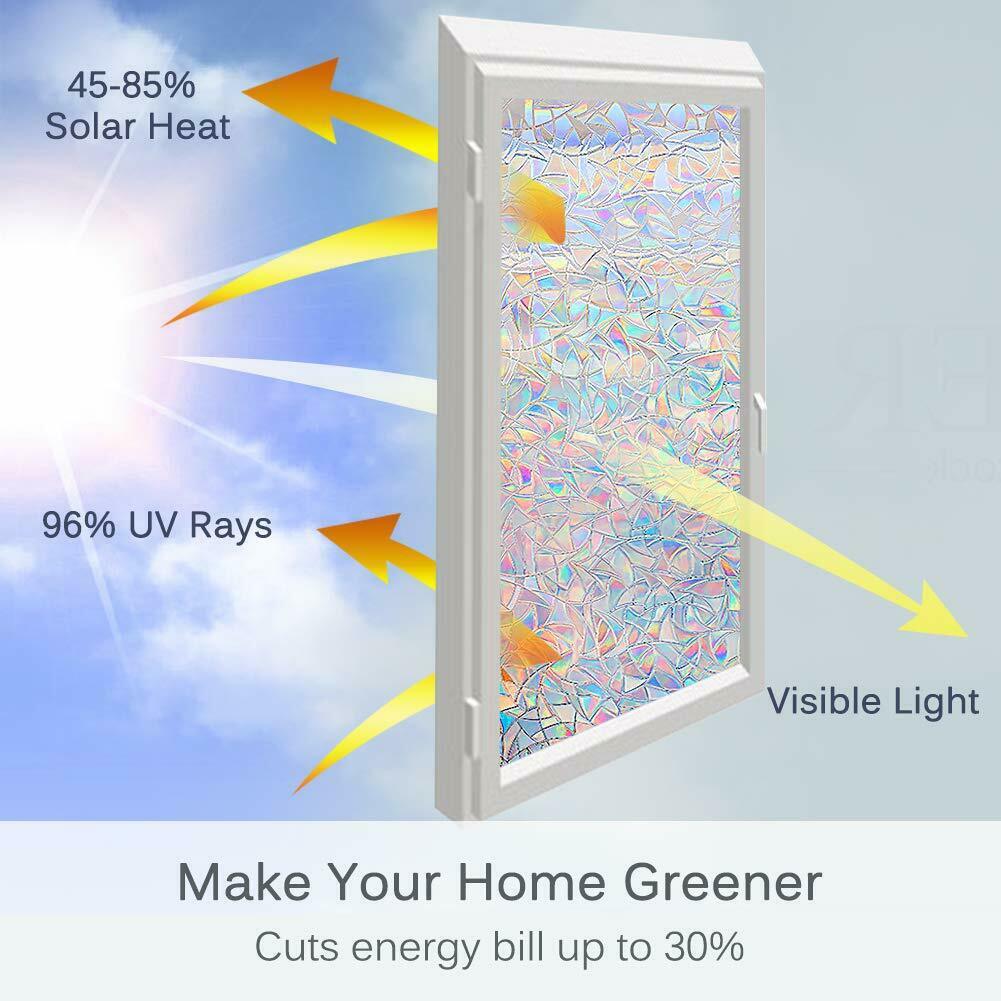 🌈PRIVACY PROTECTION: Provides Privacy and Allows the Lights in. The window film serves a functional purpose in adding partial privacy for your personal space by preventing people outside from seeing directly into the room and obscuring outdoor views; Protection Level is ★★★☆☆ Semi-Private Window Films (Protects Your Privacy But Not Recommended For Bathroom Application).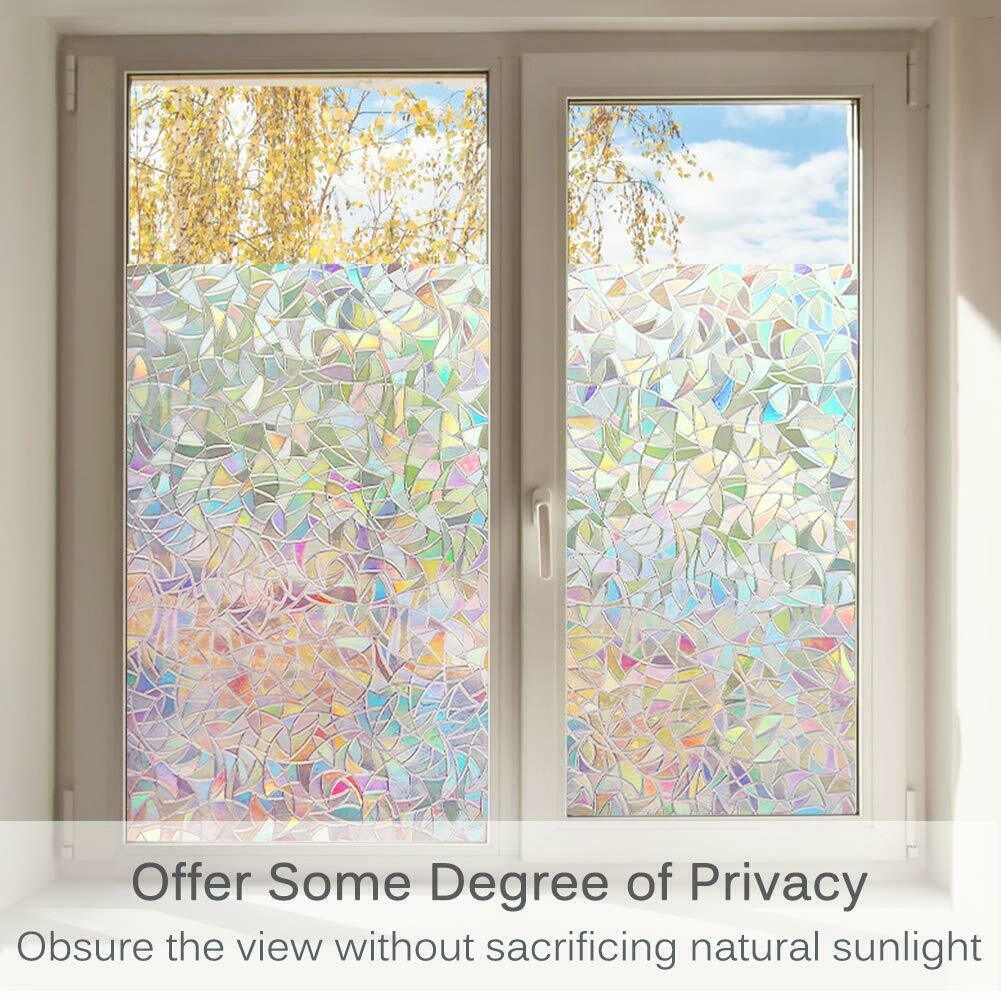 ❤️️❤️️Installation Instructions:
✅✅1. Measure the surface and cut the film. Leave an extra inch
margin each side for an easy adjustment.
✅✅2. Clean the target surface thoroughly and make sure the
surface is clean enough without any dust.
✅✅3. Peel off the transparent backing film along a short side.
(Very Important!!!)
✅✅4. Spray a lot of water or soapy water both on the SMOOTH side
of the window film and the window, then install the window film
onto the window.
✅✅5. Use the soft towel or squeegee to wipe the film back and
forth to make sure that the bubbles and water have been totally
removed.
✅✅6. Trim off the margins and use a cloth to flatten out the
film. Here you go!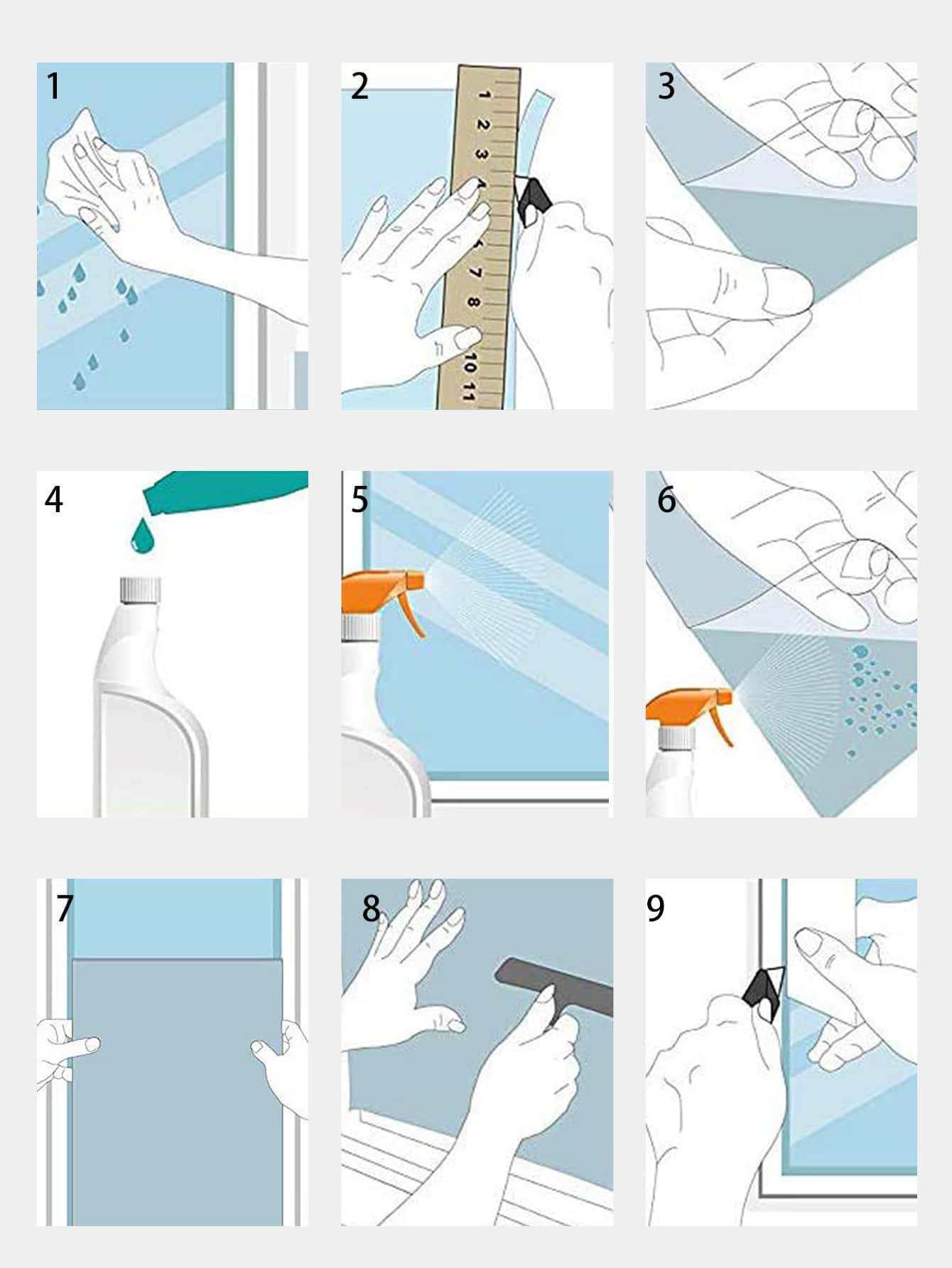 ❤️️❤️️ How to Peel Off the Clear Backing Film:
✅✅ Step 1 - Please wet one window film corner and use your
fingers to twist it for a while to loosen the attachment between
the window film and clear backing film;
✅✅ Step 2 - Please attach a sticky tape to the side of the clear
backing film corner (we have also attached a small sticky tape on
each roll of window film for your convenience), and then press it
for effective attachment;
✅✅ Step 3 - And then you are able to separate the clear backing
film from the window film easily.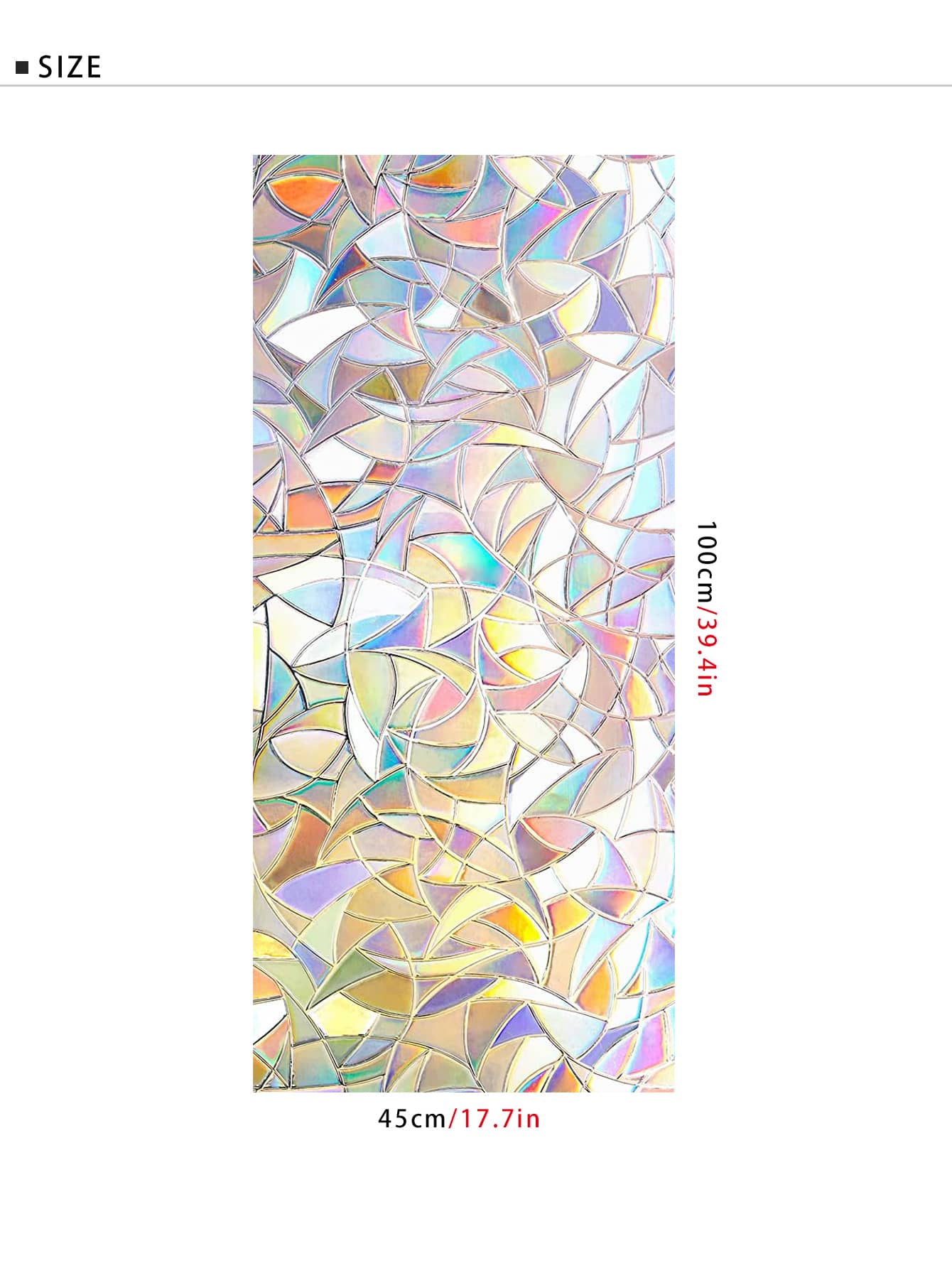 ❤️️❤️️NOTE:
✅✅The window film works only on FLAT, CLEAN, and SMOOTH surfaces.
It will not stick on plastic, broken or uneven surfaces.
❤️️❤️️Package Content:
🐳3D Iridescent Window Shielding Film x1/2pcs