Buy 2 Get Extra 15% OFF
Buy 3 Get Extra 20% OFF
Buy 4 Get Extra 25% OFF
As a gift for your loved one, this best outdoor fan will bring you cool, cool breezes this hot summer!

breeze on the neck
-- Small and portable, just pick it up and go!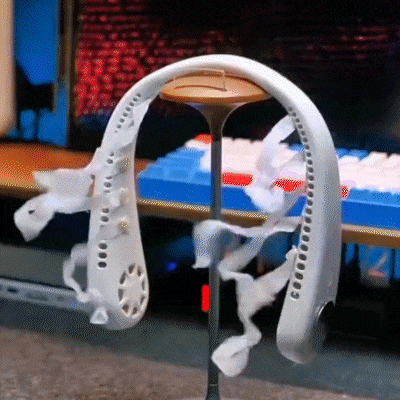 feature
✅ Hands-free design and fashion:
The hand-free fan was designed as a headphone to free your hands anywhere; Fashion style makes you look so cool and you can take it anywhere in hot weather.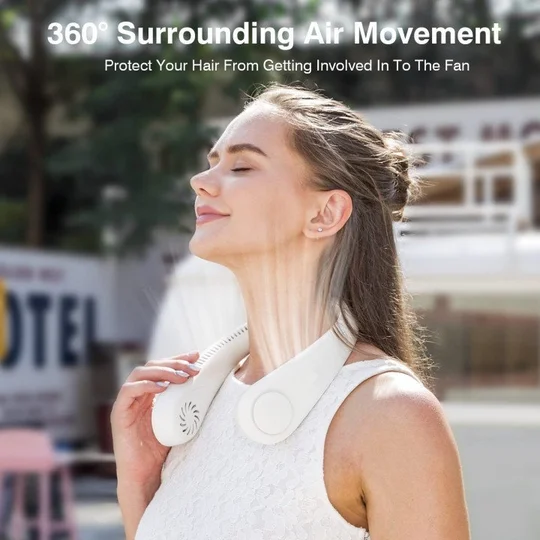 ✅Safety & 42 Air Outlets:
A novel neck fan that delivers air without clogging your hands by simply placing it on your neck. Wingless design, safe for both children and the elderly. When using a fan, you don't have to worry about hair getting caught on the fan blades. There are 42 air outlets on the neck that can be used on the entire face to generate enough air to keep you cool at all times. It is also an ideal companion for working in hot weather.

✅Low noise design and comfort:
The wearable neckband fan's motor has been modified to generate noises of less than 36 dB while running. It is pretty enough to hear your own breath. It is made of Eco-friendly ABS & electronic components. Makes the hands-free neckband fan softer and more durable and quieter.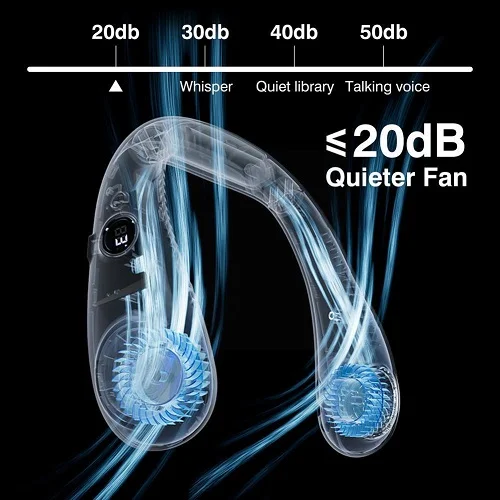 ✅4-16 Running Hrs & 3 Speeds:
Offers 4-16 working hours duration (depending on different speeds). Press the power button repeatedly to adjust the appropriate fan speed.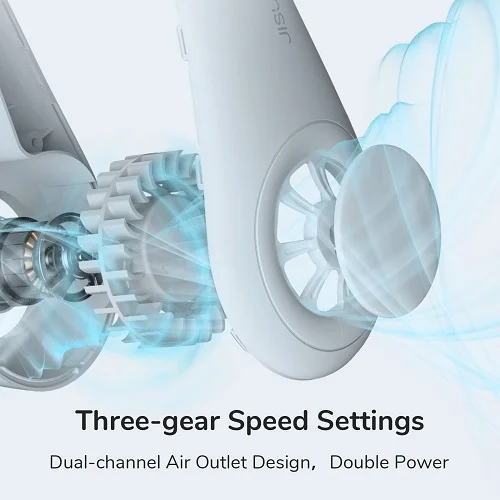 ✅Compact design and warranty:
Weighing approximately 7.01 ounces, the personal neck fan is super light and puts less pressure on the neck.
✅Wide application:
Suitable for indoor and outdoor activities, office, subway, travel, camping, picnic, hiking, cooking and study.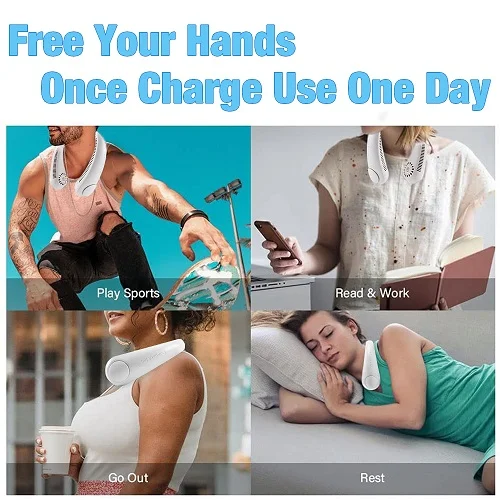 Specifications (Classic)
Product weight: 182g
Voltage working range: 5-9 (V)
Power: 5 watts
Capacity batteries:1200mAh large
Running Time: 3-6 hours
Interface Type: USB-C
Dust and sweatproof
Size: 290.3*60.4*36.7mm
Specification(Luxury Style)
Product Weight: 217g
Voltage Working Range: 5-9 (V)
Wattage: 5 Watt
Capacity batteries:1800mAh large(White, Green, Pink)
Capacity batteries:1500mAh large
Running time: 3-6 hours
Interface type: USB-C
Dust and sweat proof
Size:290.3*60.4*36.7mm
WHAT'S INSIDE THE PACKAGE?
Hands-free Personal Fan.
USB C USB Charging Cable(0.65 feet).
User Manual.