Struggling to read the labels on your medication bottles? Guessing at the temperature of the oven as you pre-heat it to make dinner?
One of the most frustrating aspects of macular degeneration is the way it disrupts everyday life, where we all need to perceive visual details to complete simple tasks.
When vision loss interferes with your ability to live independently and safely, your loved ones may initiate a conversation about alternative living arrangements.
With The 20X Optical Magnifying Glass, Macular Degeneration and Vision Loss Won't Slow You Down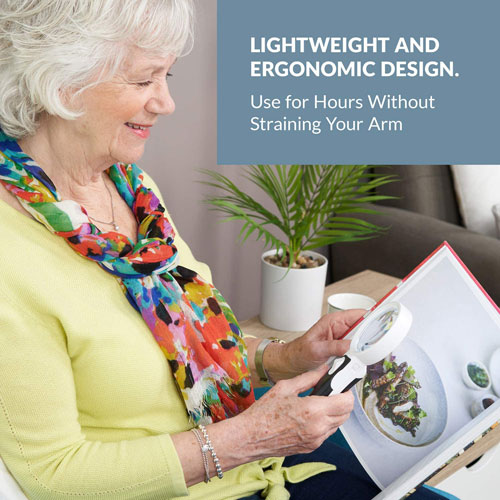 The 20X Optical Magnifying Glass is perfect for reading magazines, books, and even product labels! You will love the built-in LED lights that further enhance your viewing experience.
It will also help:
Reduce Eye and Vision Strain
Improve Visibility for Virtually Any Task
It doesn't interfere with Current Vision Prescriptions
This magnifying glass amplifies 20 times higher than standard models! It helps Seniors read the small print.
It's even great for crafting, antiques, textiles, and more!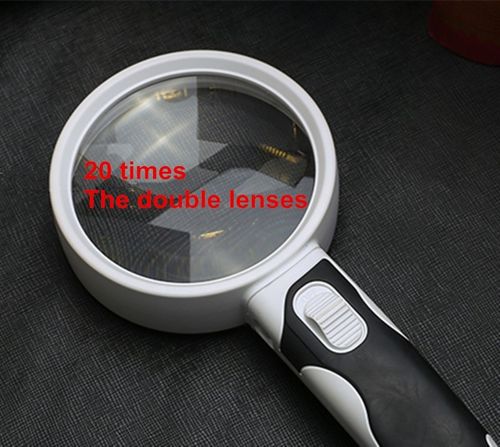 Features:
✅ High Power Magnification: This magnifying glass provides 20X magnification, allowing users with low vision to read text, no matter the size.
✅ LED Magnifying Glass: with 2 pcs high quality, ultra-bright LED lights, the magnifying glass system also provides extra luminance to ensure an overall better reading experience, which is particularly helpful for people with macular degeneration or far-sightedness/myopia.
✅ Easy to Use: Comes completely assembled, just requires 3x AAA batteries. Once the batteries are added, the magnifying glass is ready to go, making it perfect for the elderly or those requiring an intuitive magnification system.
✅ 4-inch Polished Lenses: Magnifies 20x without optical distortion. Optimal to enhance reading and viewing very fine details in books, newspapers, magazines, photographs, maps, electronics, miniatures, jewelry, pill bottles, medications, hobbies, models, and crafts of all kinds.
✅ Perfect Gift For THE ELDERLY: great magnifier for seniors, is excellent for the small print on coupons, prescription medications, and leisurely reading, and also a great choice for those who have a low or impaired vision of most types.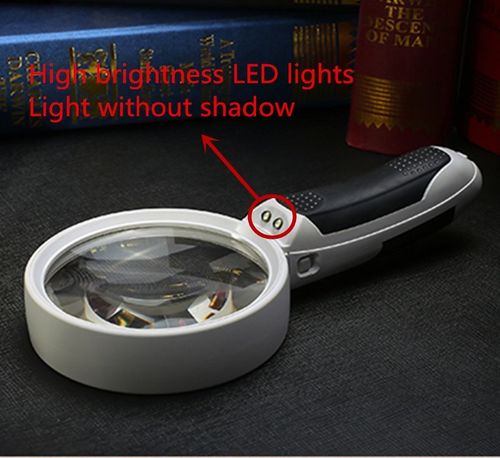 Customer Q & A
Q: Are the lenses made of glass or plastic?
A: The lenses are made of glass.
Q: How big are the lenses?
A: 4 inches.
Q: Is this good for coins?
A: Yes. It works well for coins.
Q: What type of batteries does it use?
A: The magnifying glass uses 3 AAA batteries(NOT INCLUDED).
Q: Is the light bright enough to see a small print?
A: It is bright enough.
Q: How would this be for reading an 18- by 12-inch world map?
A: Yes, I am sure this would work for you.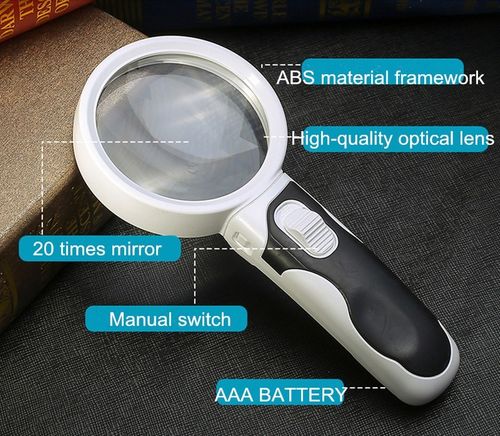 Package Includes:
1 x Optical Magnifying Glass
No More Squinting To Read! Do your eyes a favor and bring a new magnifier into your life.