This amazing tool allows you to graft plants together and cut branches with ease!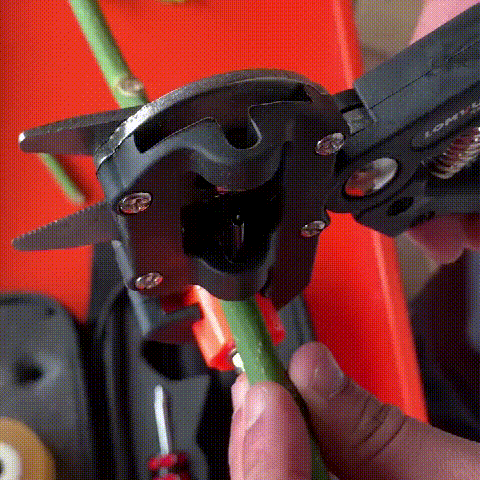 Great for fruit trees or growing a beautiful garden!
Similar to transplanting human organs, you can combine parts of two different trees to form a functioning individual. Benefits An exact genetic replica of a fine tree.
This means that if you have a tree that produces amazing fruit every year, you can effectively double or triple your harvest by using this grafting technique to create an exact copy .

feature:



Pruning blades (1/8" thick) are ideal for cutting leaves, branches and stems without changing tools

Can cut grafted plant branches with a diameter of 3/16"~17/32"

The cuts of the two woods will combine perfectly for maximum cambium contact, significantly improving survival rates.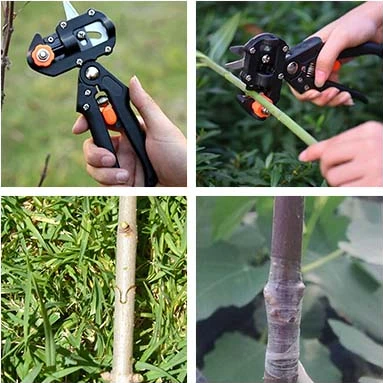 Specification:



Materials : Carbon Steel, ABS and Aluminum

Color : black

Cut graft material diameter from 5mm/0.2"-1.4cm/0.55"

Trimming blade thickness: 3 mm/0.12 inches

Phillips screwdriver with red handle

Size : 22cm*10cm/8.66in*3.94in

Grafting strip width : 2cm/0.79"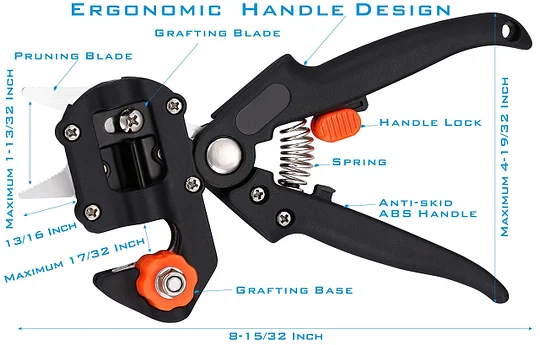 Package includes:
how to use:



Step 1 : Clamp the grafting rootstock in the grafting tool, squeeze the handle to cut, repeat this step to cut the stem from the donor plant. Take care to make sure you cut the grooves in the stock plants.

Step 2 : Slide the donor stem into the groove of the mother plant, matching the cut surface as closely as possible. If the stock and donor plants are different sizes, only match on the sides.

Step 3 : Place sanitizing material around the seams and tape it, the sanitizing material will keep out bacteria and weather conditions.

Step 4 : Use pruning shears to cut off unwanted branches from the plant.

Step 5 : The grafting tool with the "V&U&Ω" blade and the end of the blade can both be cut, one blade can be used as two pieces, so you have a total of six blades.